SUBMISSION TO MANAGEMENT
TITLE:

Proposed secondary financing - ACME Housing Corporation
201 Elm St. (7 units) &
203 Oak St. (34 units),
ANYVILLE, Canada
PROBLEM:

The subject property is in need of restorative work to both structures, including:
Repairs to Elm St. ($84,000):
replace deck membrane over garage, install new wooden deck.
some structural repairs to framework (eg: door & window headers) on 2 lower units on south side.
strengthening 4 upper balconies.
replace ceiling of parking garage, re-insulate.
new siding.

Repairs to Oak St. ($30,000):
siding to be installed over exterior tile-work which has deteriorated.
re-parging of underside of various balconies.

OBJECTIVE:

To obtain management approval to allow the housing corporation to obtain secondary financing to a maximum
of $120,000 in order to finance the cost of repairs as detailed above, including a small
contingency.
BACKGROUND:

ACME Housing Corporation received a commitment on September 9, 1982 for Phase I. On December
23, 1983, the second phase of the project was committed. The Interest Adjustment Dates are January 1, 1983 for Phase I and March 1, 1985 for Phase II.
The property consists of two structures. The first phase is an existing 34 unit high rise which was purchased and renovated. Phase two is a 7-unit row-house structure which was newly built. Although the high rise was already 20 years old when Phase I was committed, it has held up rather well. Other than the above noted repairs, and some other minor problems, the high rise
poses no particular threat to the project's financial well-being.
On the other hand, the row-house structure has been a source of problems since the beginning. The original architect designed the structure to have a green-space deck between two separate buildings, with the deck forming part of the roof of the parking structure. The deck was filled with approximately .5 metres of soil, and planted with grass and small trees and bushes.
Since the drainage for this was not adequate, the soil became saturated, and its moisture penetrated the structure, causing water damage at the floor levels of several units. Also, the saturated soil resulted in a load higher than the deck was designed for, causing enough stress on the underground parking support tenants to result in deterioration. The original contractor is no
longer in business -- attempts to pursue the builder have been futile.
Several inspections have been carried out over the last few years. The latest, dated 93/11/15, indicates that approximately 50% of the above repairs have been carried out to date on 201 Elm, and that approximately $40,000 worth of repairs remain to be completed on this building this year before the onslaught of winter. The work on 203 Oak need not be done before winter, but is included in the total loan amount for this workout.
The latest work has been tendered and an architect, whom the landlord is very satisfied with, is managing the repair work. He will continue to manage the remaining repairs needed, but has not been paid in a while, and his bill is part of the $18,000 in invoices that are currently outstanding. Our office has reviewed the specifications for the repair work on the row-house and finds them acceptable.
The project is administered on a volunteer basis only. The housing corporation spent $12,000 on a technical
audit in 1990/91, which the current landlord feels is useless.
The current landlord Board of Directors, which also carries out day-to-day administrative duties, has threatened to resign en masse and contact the media if no help is forthcoming from our office.
RENTAL MARKET:

An analysis of the project's rents indicates that they are slightly below the market. The proposed
increases, which include the cost of additional debt load, will not price these units out of the market. Rent increases effective 93/03/01 have been approved. Tenants who are unable to pay full rents are income tested. At present, the number of tenants receiving RGI assistance is approximately 25%, which is acceptable. This is a substantial improvement since several years ago, when a high proportion of tenants were receiving RGI assistance.
At April 30, 1993 the balance of the subsidy surplus fund was $773. In 1992/93, the housing corporation used slightly more Income-Tested Assistance than it received, but this imbalance will not continue next year, as the landlord is being diligent about the availability of the Income Tested assistance budget in line with government funding.
MARKET VALUE:

The appraised market value of this project is $1,650,000 "as improved". Since the total current balance of both existing mortgages is approximately $1,230,000 and this will increase to $1,344,000 if this workout proposal is approved, there is sufficient equity is available to support the proposed 2nd mortgage financing.
FINANCIAL ANALYSIS:

A cashflow forecast is attached and is an integral part of this workout proposal. It includes the
repayment of a $120,000 2nd mortgage at 6.5% over 10 years, assuming that the recommendations in this workout proposal are agreed to. The forecast also assumes that the housing corporation will continue to receive approximately $4,500 annually
in net revenue from the commercial space on the high rise ground floor that it rents to a grocery store and a physical therapist.
To date, the housing corporation has used several means to finance the current work. During the past year, a total of $52,000 has been spent on the above repairs, of which $36,000 was from the Replacement Reserve. This action has totally depleted the Replacement Reserve. The additional $16,000 was spent from the Maintenance budget to allow the repairs to continue. To effect continued repairs, the housing corporation has been spending from a line of credit whose limit is $30,000 and of which little remains.
The project has recently been billed in the amount of $18,000 which must be paid as soon as possible for work to continue. The housing corporation has threatened to withhold mortgage payments in order to pay the construction invoices which are now due.
The annual Replacement Reserve contributions shown in the attached cash-flow forecast are higher than required, in order to bring the Replacement Reserve rapidly to acceptable levels within the 5-year frame of the forecast. This is particularly important for the high rise, as the building is twenty years old and, while in good condition, may require funds for future replacement of other capital items.
First mortgages in the amount of $1.2 million ($801,000 for Phase I, $431,000 for Phase II) is held by ABC Trust. They were renewed on January 1, 1990 under CFRP. They will renew again on January 1, 1995. The attached cash flow statement indicates that the project will be able to carry additional debt load and also fund the Replacement Reserve. However, should there be a cash flow problem, the proposed allocation to the Replacement Reserve will be phased over a longer period of time.
FACTORS:

In arriving at our recommendations, we considered the following factors:
the impact that the 2nd mortgage financing will have on the project's operations, and
the protection of the mortgage security and health and safety factors.

ALTERNATIVES:
1.
Approval be given to the group to obtain secondary financing to undertake the necessary repairs
.

PROS
- Project improvements will be realised therefore improving the health and safety of
tenants and protecting the assets of the housing corporation.
- Costs associated with the secondary financing will not jeopardise the project's
viability.
- The Board of Directors has approved the 2nd mortgage financing and debt service.
- our office's inspection reports support this repair work.

CONS
- None, repairs are required.

2.
Reject group's request
. This alternative is not recommended. The project requires the repair work and has the capability to carry additional debt load.
PROS
- None.

CONS
- the Board might resign, leaving the project without management.
- building will deteriorate further, thus increasing the cost of repairs if done later.

RECOMMENDATIONS:

That approval be granted to ACME Housing Corporation to obtain a 2nd mortgage through our loan department to carry out repairs as detailed above. This approval would be subject to the following conditions:
that rents be raised to market levels as detailed in Appendix B of this proposal, once repairs are complete,
that the housing corporation contribute to the Replacement Reserve at a higher level, as per the cashflow forecast,
that a part-time coordinator be hired to provide bookkeeping and property management services,
that the Board improve their Financial Management and Maintenance Planning through training, eg: IHM & CREA courses,
that the 2nd mortgage commitment through Direct Lending is not to exceed $120,000, and
compliance to all applicable building codes is confirmed.

Prepared by:
o/s o/s
__________________________
A.Krisciunas
Porfolio Manager
Recommended by:
o/s
__________________________
A.L.
Branch Manager
Approved by:
__________________________
B.M.
Provincial Manager
---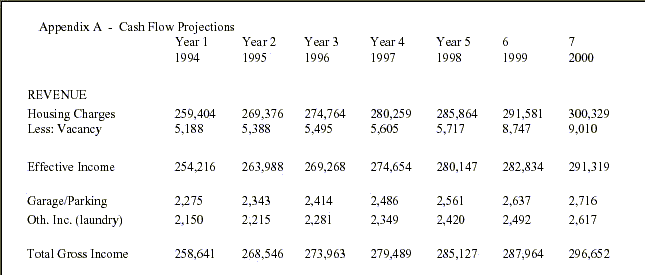 ---
---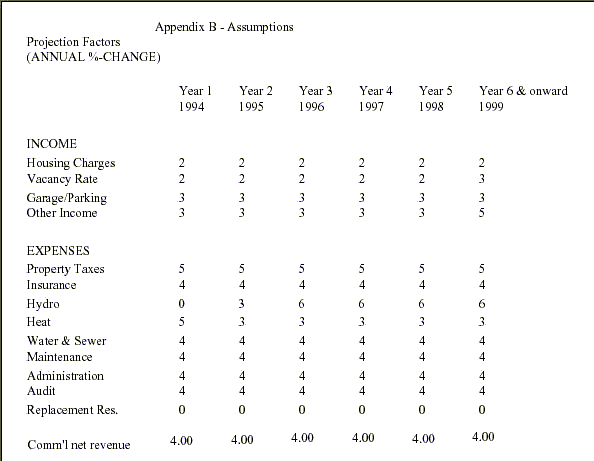 ---
Appendix B - continued
--

RENT SCHEDULE
Oak St.(high-rise)

| | | |
| --- | --- | --- |
| | effective March/94 | effective March/95 |
| | | | | | | |
| --- | --- | --- | --- | --- | --- | --- |
| TYPE | RENT | UNITS | TOTAL | RENT | UNITS | TOTAL |
| Studio............... | 397 | 1 | 397 | 417 | 1 | 417 |
| Bachelor............. | 460 | 5 | 2,300 | 483 | 5 | 2,415 |
| 1-Bdrm small......... | 471 | 16 | 7,536 | 495 | 16 | 7,920 |
| 1-Bdrm large......... | 500 | 9 | 4,500 | 525 | 9 | 4,725 |
| 1-Bdrm & den......... | 537 | 1 | 537 | 564 | 1 | 564 |
| 2-Bdrm............... | 606 | 2 | 1,212 | 636 | 2 | 1,272 |

Elm
St.(row-house)

| | | |
| --- | --- | --- |
| | effective March/94 | effective March/95 |
| | | | | | | |
| --- | --- | --- | --- | --- | --- | --- |
| TYPE | RENT | UNITS | TOTAL | RENT | UNITS | TOTAL |
| 2-Bdrm.............. | 663 | 3 | 1,989 | 663 | 3 | 1,989 |
| 3-Bdrm small......... | 701 | 2 | 1,402 | 701 | 2 | 1,402 |
| 3-Bdrm large......... | 872 | 2 | 1,744 | 872 | 2 | 1,744 |
---
| | | |
| --- | --- | --- |
| Total Monthly Income | 21,617 | 22,448 |
| | | |
| --- | --- | --- |
| Total Annual Income | 259,404 | 269,376 |
---
PRINCIPAL AND INTEREST CALCULATIONS
FIRST MTGE...................... $ 1,231,696
Interest Rate
%
10.94 .89% (1st mtge will renew
Amortisation (months) 348 in 1995 at 6.5%, 24
Annual payments 138,065 year am., annual
payments = 100,687)

SECOND MTGE ....................$ 120,000
Interest Rate % 6.50
.
53%
Amortization (mth) 120
Annual payments 16,288